Jurisdiction
The Starke Circuit Court has unlimited trial jurisdiction in all cases.
Some examples of cases filed include, but are not limited to:
Criminal

Felony
Misdemeanors
Infractions
Ordinance Violations
General Torts
Personal Injury
Medical Malpractice
Contracts

Family Law

Dissolution of Marriage
Paternity
Child Support
Adoption

Estates
Trusts
Guardianships
Juvenile
Mental Health
Children Services
Protective Orders
Appeals from the Knox City Court
Learn about traffic tickets:
You can contact the Knox City Court at the following address and phone number or online at
https://www.cityofknox.net/city-court
Knox City Court
101 W. Washington Street
Knox, IN 46534
Phone: (574) 772-3766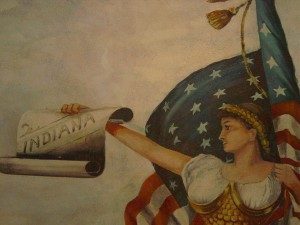 Justice Established by the Constitution
The Preamble to the Constitution of Indiana, adopted by the people of this state on November 1, 1851, provides:
"TO THE END, that justice be established, public order maintained, and liberty perpetuated;

WE, the People of the State of Indiana, grateful to ALMIGHTY GOD for the free exercise of the right to choose our own form of government, do ordain this Constitution."
The judicial power of the state is created in Article 7.
ARTICLE 7. Judicial                                                                                         


Section 1. Judicial power


Section 1. Judicial Power. The judicial power of the State shall be vested in one Supreme Court, one Court of Appeals, Circuit Courts, and such other courts as the General Assembly may establish.
Circuit Courts are provided for in Section 7.
Section 7. Judicial circuits

Section 7. Judicial Circuits. The State shall, from time to time, be divided into judicial circuits; and a Judge for each circuit shall be elected by the voters thereof. He shall reside within the circuit and shall have been duly admitted to practice law by the Supreme Court of Indiana; he shall hold his office for the term of six years, if he so long behaves well.
The jurisdiction of Circuit Courts is set forth in Section 8.
Section 8. Circuit courts

Section 8. Circuit Courts. The Circuit Courts shall have such civil and criminal jurisdiction as may be prescribed by law.